Aizuri-e: the Peasant class (Nō 農) from a series of the four estates Mitate shinōkōshō (無名: 見立士農工商)
Print
---
1820s
10.2 in x 15.1 in (Overall dimensions) Japanese color woodblock print
Signed: Gokotei Sadakage ga
五雲亭貞景画
Publisher: Kawaguchiya Chōzō
(Marks 230 - seal 21-202)
Censor's seal: kiwame
Museum für angewandte Kunst, Vienna
Ritsumeikan University - black and white image
The Museum für angewandte Kunst, Vienna says that this print represents a
mitate
of one of the 'four social classes' of the
shinōkōshō
(士農工商). If that is so, and we have no reason to believe otherwise, then there are only four prints in this series.
Note that the main figure in this print is carrying a child on her back and this is also true of the woman in the inset in the upper left. Both are carrying a tea kettle, tray and cups. Therefore, another underlying theme is drinking tea. The woman in the inset is about to cross over a stone walkway, while five figures, probably women, are planting rice. That would mean that this print represents the second class, the farmers/peasants, which rank right below the samurai and above artisans and merchants.
They also say that the author of the text is Tanomioku, an author we cannot find. They transliterate the poem as: "
minori mo aredo/ imoto se no/ naka ni wa mada shi/ aki no hatsukaze
".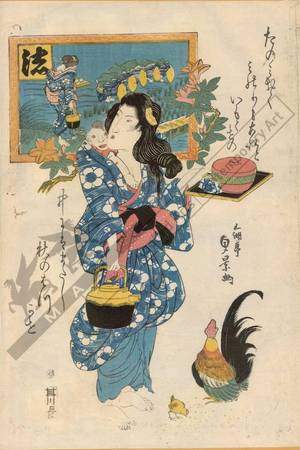 Austrian Museum of Applied Arts version
blue prints (aizuri-e - 藍摺絵)
(genre)
Kawaguchiya Chōzō (川口屋長蔵)
(publisher)
beautiful women (bijin-ga - 美人画)
(genre)
boshi-e (母子絵)
(genre)
---